Munmun Saha's Medical Support - Details
Munmun Saha's Medical Support
NATS
Posted on:
Sun, Jul 04, 2021
Organized by:
NATS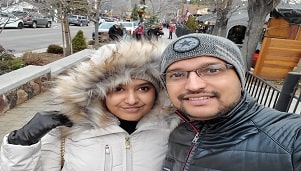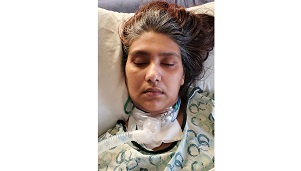 Raised Amount

$ 7,789

Amount Need:

250,000
Overview
Photos
Donations
Munumn Saha delivered baby Sitara on 02/24/2021 when she underwent an emergency vaginal delivery and was diagnosed with preeclampsia. She experienced a cardiac arrest on 03/01 that led to brain damage due to anoxic brain injury and admitted into ICU at Medical City Las Colinas, Irving, TX. The doctors think the survival chance is very minimal and likely have postpartum cardiomyopathy. She was in ICU for 25 days then moved to Life care Dallas facility (LTAC) on 03/26 for further treatment then moved to Sandy Lake Rehabilitation and Care center on 04/30 to continue the treatment. They can improve her health condition and she is responding to calls/commands now.


Currently, the insurance coverage maxed out and they stopped the coverage now. The facility has screened her current state believes that she has particularly good chance of making more progress if continuous rehab and other treatment are provided to her. The family needs to continue her treatment here due to the risk involved with COVID-19 new variants, they need to continue the treatment here in USA for next few months. Since the treatment is more expensive (Est. 250k to 300k), they ran out of funds and her spouse Navneet is working on OPT (Student visa), the family is looking for our support to continue Munmun's treatment and save her life.


NATS Helpline team is actively working with her spouse Navneet and his friends past few months and providing necessary assistance. The family needs additional support from our community in these difficult times, so we have initiated the fund-raising campaign to get additional support.

Please join hands together for saving her life and support family. Appreciate in advance for your generous contribution.
| S.No | Name | Amount |
| --- | --- | --- |
| 1 | Anonymous | $25 |
| 2 | Anonymous | $100 |
| 3 | Anonymous | $20 |
| 4 | Anonymous | $100 |
| 5 | Anonymous | $50 |
| 6 | Anonymous | $25 |
| 7 | Anonymous | $25 |
| 8 | Anonymous | $50 |
| 9 | Anonymous | $54 |
| 10 | Anonymous | $25 |
| 11 | Anonymous | $101 |
| 12 | Anonymous | $15 |
| 13 | Anonymous | $51 |
| 14 | Anonymous | $20 |
| 15 | Anonymous | $50 |
| 16 | Anonymous | $50 |
| 17 | Anonymous | $25 |
| 18 | Anonymous | $100 |
| 19 | Anonymous | $100 |
| 20 | Anonymous | $50 |
| 21 | Anonymous | $25 |
| 22 | Anonymous | $200 |
| 23 | Anonymous | $25 |
| 24 | Anonymous | $50 |
| 25 | Anonymous | $25 |
| 26 | Anonymous | $100 |
| 27 | Anonymous | $50 |
| 28 | Anonymous | $25 |
| 29 | Anonymous | $50 |
| 30 | Anonymous | $100 |
| 31 | Anonymous | $25 |
| 32 | Anonymous | $100 |
| 33 | Anonymous | $100 |
| 34 | Anonymous | $21 |
| 35 | Anonymous | $15 |
| 36 | Anonymous | $250 |
| 37 | Anonymous | $50 |
| 38 | Anonymous | $100 |
| 39 | Anonymous | $100 |
| 40 | Anonymous | $50 |
| 41 | Anonymous | $100 |
| 42 | Anonymous | $20 |
| 43 | Anonymous | $50 |
| 44 | Anonymous | $100 |
| 45 | Anonymous | $25 |
| 46 | Anonymous | $100 |
| 47 | Anonymous | $100 |
| 48 | Anonymous | $100 |
| 49 | Anonymous | $25 |
| 50 | Anonymous | $25 |