Srinivas Lolla's Funeral & Family Support - Details
Srinivas Lolla's Funeral & Family Support
NATS
Posted on:
Tue, Sep 13, 2022
Organized by:
NATS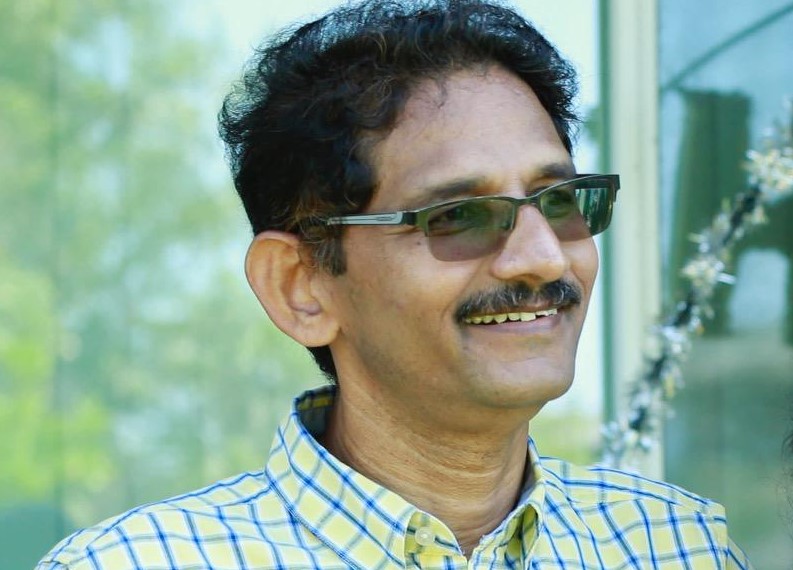 Raised Amount

$ 6,893

Amount Need:

100,000
Overview
Photos
Donations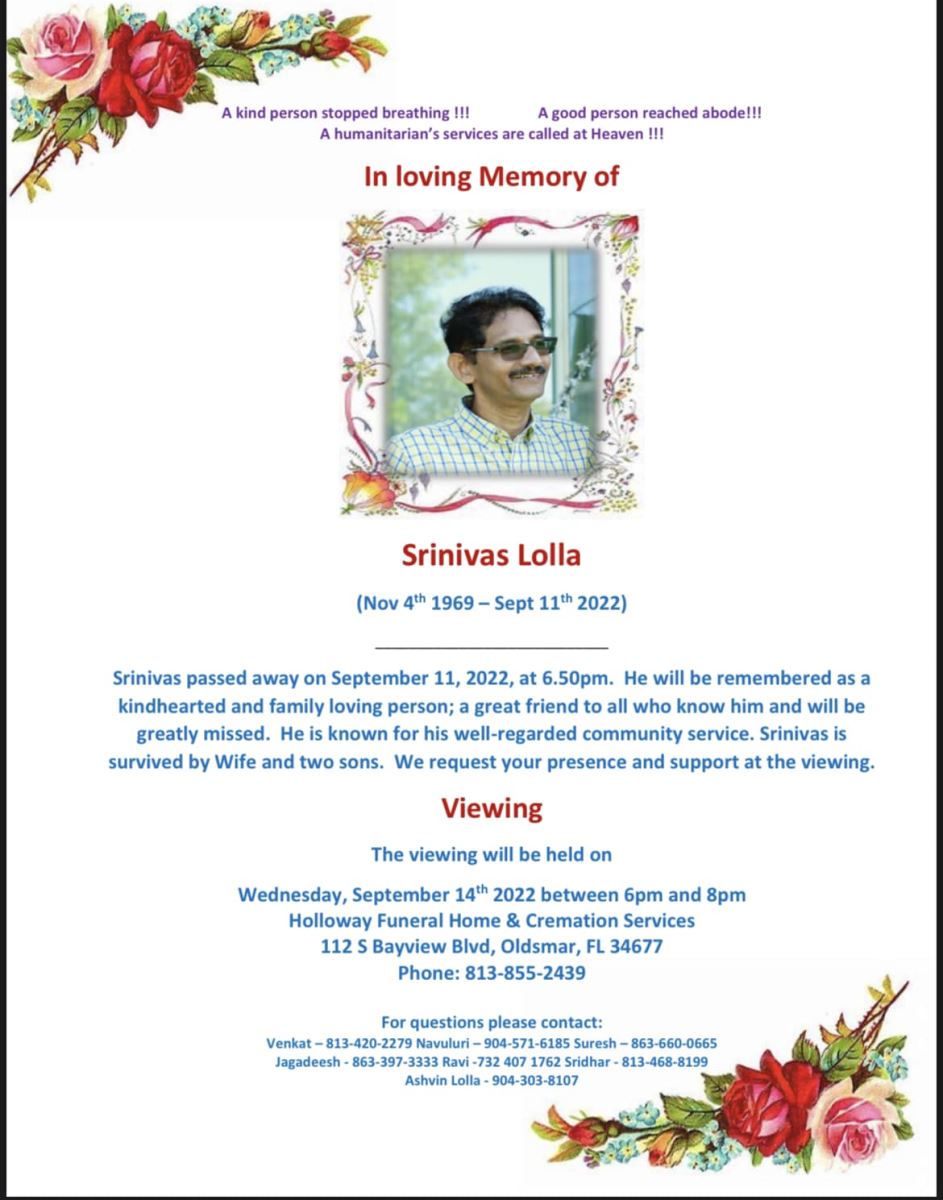 NATS is deeply saddened to share that our beloved friend and humanitarian SRINIVAS LOLLA left us yesterday (09/11/2022) in Tampa, FL. Srinivas Lolla garu is originally from Nidadavolu, West Godavari District, A.P, and He used to work for Publix in Tampa.
He was diagnosed with terminal illness a few weeks ago, and since then, it has been a stressful journey for their entire family with his medical condition. Srinivas is survived by a wife and two kids and is the sole breadwinner of the family. Srinivas is an active participant in supporting and serving several community activities.
We have started this fundraising campaign to help cover the medical bills, funeral expenses, and near-term financial support for his family.
Please keep Srinivas in your thoughts and extend your heart to support this campaign and his family.
Please reach out to Ashwin Lolla (younger brother of Srinivas) at 904-303-8107 for any inquiries.
Want to join us in making a difference? Any donation will help make an impact in supporting Srinivas's family. Thanks in advance for all your support, and appreciate your generous contribution to this cause.
| S.No | Name | Amount |
| --- | --- | --- |
| 1 | Anonymous | $25 |
| 2 | Anonymous | $20 |
| 3 | Anonymous | $25 |
| 4 | Anonymous | $100 |
| 5 | Raghu M | $50 |
| 6 | Sreenivasa Daka | $100 |
| 7 | Yasoda Tammana | $200 |
| 8 | Anonymous | $25 |
| 9 | Anonymous | $100 |
| 10 | Anonymous | $100 |
| 11 | Anonymous | $100 |
| 12 | Bianca Marcelletti | $40 |
| 13 | Sahana Gowda | $200 |
| 14 | Sreeram Akella | $100 |
| 15 | Bhanu Dhulipalla | $200 |
| 16 | Satya Muthyala | $100 |
| 17 | Jagadish B | $25 |
| 18 | Anonymous | $50 |
| 19 | Venkata Ramana Lingampally | $25 |
| 20 | Radhakrishna Nagaraj | $25 |
| 21 | Radhakrishna Nagaraj | $25 |
| 22 | Anonymous | $50 |
| 23 | Anonymous | $10 |
| 24 | Nagesh Meesala | $25 |
| 25 | Anonymous | $100 |
| 26 | Anonymous | $25 |
| 27 | Sasi Valluru | $50 |
| 28 | Anonymous | $50 |
| 29 | Rajesh Kavuru | $25 |
| 30 | Narasimha Rao Olibiri | $100 |
| 31 | Anonymous | $50 |
| 32 | Anonymous | $100 |
| 33 | Anonymous | $50 |
| 34 | SATYA DUGGIRALA | $25 |
| 35 | Satya Sriramaneni | $50 |
| 36 | Anonymous | $100 |
| 37 | Anonymous | $50 |
| 38 | Anonymous | $25 |
| 39 | jhansi penmetsa | $25 |
| 40 | Anonymous | $25 |
| 41 | Anonymous | $150 |
| 42 | venkateshwar desai | $25 |
| 43 | Suresh Datti | $100 |
| 44 | Shashidhar Pabba | $50 |
| 45 | Radharani Mandapuram | $50 |
| 46 | Anonymous | $50 |
| 47 | Anonymous | $25 |
| 48 | Anonymous | $50 |
| 49 | Anonymous | $25 |
| 50 | Anonymous | $50 |